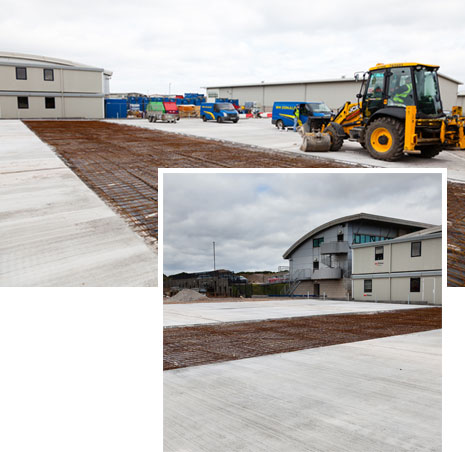 Photo courtesy of WM Donald.
The site supplies of the business offers a massive range of top quality Reinforcement, Concrete Formwork, Masonry Waterproofing, Groundwork Engineering products, grouts and anchors from the leading brands in construction. Stock profile and on time deliveries are crucial in this market sector and we pride ourselves on our ability to full fill both. We manage this by speaking to our customers to make sure we hold the correct products and then distribute them on either of our two 27 ton curtain sided lorries or our response stretched transit.
Reinforcement, concrete and formwork accessories are mandatory stock items at Glow Insulation. We keep a wide range of spacer blocks and bars, high chairs and circular wire spacers. We know these items are critical to ground workers so stocks are kept high to maintain supply to site.
Masonry water proofing comes in many forms to protect structures from water ingress. These include waterproofing membranes, liquid membranes, joint sealers, cementitious and liquid additive waterproofing. Technical assistance can be sought on all systems and the best suited to your situation.
Groundwork Engineering products in compasses products for separation, reinforcement, drainage and erosion control. We also stock a wide range of gas barrier systems to provide complete protection against the ingress of methane, radon and CO2 gases. These gas barriers are used in conjunction with gas resistant DPC, double sided and single sided tapes to give you a complete seal.
The above is only small selection of what site supplies can offer your business. Please call us on 01382 612277 and our expert staff can help with any technical query or price you require.